Top 8 The Best Coffee Makers on The Market 2019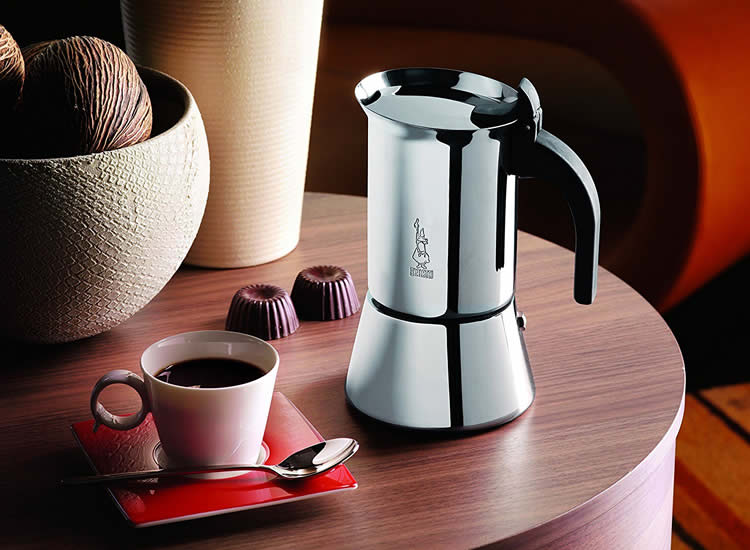 We all like coffee. Especially in the mornings, a cup of coffee from our coffee machine can always get us through. At first, you may be satisfied with instant coffee, but sooner or later you will have to try something better and more elegant, and you will start thinking about brewing coffee and what types of coffee makers are on the market.
We understand that choosing the best coffee maker can be a headache, and it will probably cost you, but you do not have to spend a lot. With luck, this guide can help you to compare different types of high quality machine brands you like the most.
What is An Instant Coffee Machine?
A coffee maker is an appliance that is usually found in the kitchen, which allows you to prepare coffee as a hot beverage. The first coffee machines date from the beginning of the 19th century when the coffee was mixed directly with boiling water.
Best Instant Coffee Makers Under $50
01. Stovetop Espresso Maker, Italian Moka Pot

This aluminum espresso maker is meant to be used directly on the stove for a more traditional experience. It makes six 2-oz shots and is simple to use and clean. It comes in four sizes: small, medium, large and extra large with an affordable price.
02. French Press Coffee and Tea Maker, Press Pot, Carafe and Plunger

Another great coffee maker for beginners, it can be taken to camping and road trips because of its portability and simplicity in use. You can brew hot or cold coffee in it, it is made of glass, holds 8 cups, it's long lasting, light weighted and easy to clean.
03. Bialetti Venus Espresso Coffee Maker, Stainless Steel, 6 cup

Venus is an elegant coffee maker made in stainless steel, with handle and lid made in nylon and resistant to heat. It makes 6 cups of espresso coffee in 4 to 5 minutes and can be used in all stovetops as it fits right. It is very easier to clean than aluminum pots, it can also be available in a smaller, 4 cup as small price tag.
Best Single Serve Coffee Makers Under $100
04. Cuisinart CHW-12 Coffee Plus 12-Cup Programmable Coffeemaker with Hot Water System

This 12 cup model will not only work for making perfect coffee every time, but it also incorporates the Hot Water System features, which allows you to dispense hot water to make hot tea, hot cocoa, instant soups, oatmeal or other hot beverages. The best part is that this works separately from the maker or at the same time, you choose!
It comes with an automatic on-off function, self-cleaning, brew pause to serve a cup of coffee before it stops brewing, charcoal water, and gold tone filters to avoid the water to change the taste, lights to indicate when the water is hot and to indicate the refill time, a removable drip tray and a safety feature to avoid hot water from spilling. The carafe adjustable warming temperature feature it's only seen in this maker.
05. Keurig K55 Single Serve Programmable K-Cup Pod Coffee Maker, Black

Brew your early morning cup of coffee, using this simple maker by Keurig. This is hottest model in our list.
This K55 is a modern and high quality maker which will make you completely satisfied with your purchase, because it will give you many useful functions as advertised for comfortable feelings.
The Keurig K55 has an automatic one-touch operation and shut off itself when it is finished the last cup has been brewed. It has 48 ounces removable water reservoir which is great enough to brew 6 standard cups before easy to refill.
The K55 is not only compatible with K-cups of any brand, but can also be used with ground coffee! All you need is to switch the K-cup holder with your favorite ground coffee filter, and you'd be good to go! Most of the ground coffee lovers use a reusable filter to fill with their own coffee, because k-cups get expensive on daily basis use. With this machine, you will also get to make hot chocolate depending on the type of pods used. What are you waiting for? Get it as your own great coffee maker now.
06. Hamilton Beach 49980A Single Serve Coffee Brewer and Full Pot Coffee Maker, 2-Way

The Hamilton Beach 49980A is a best coffee maker with number of great features. It give you two different option to brew your coffee, a single serve or a 12-cup.
The side one single cup brew option is best! Because, it doesn't require k-cup, like other single serve makers.
This is the perfect choice for small family that have a limited budget. Since this appliance just like 2 in 1 with programmable timer setting and a 2-hour auto shut off, both sides has separate reservoirs & heaters, that will brew amazing coffee! Although the single brew is nice.
The Hamilton 49980A maker has other great features, including brew basket has mesh filter to hold ground coffee or soft pods, and strength selector for brewing regular or bold flavor, so everyone in the family has the perfect cup of coffee for their tastes.
Design of the is compact and decent construction with stainless and black, so it doesn't take up a lot of space on counter-top.
Best Home Coffee Makers Under $200
07. Bunn BT Velocity Brew 10-Cup Thermal Carafe Home Coffee Brewer, Black

The Bunn BT Velocity features a simple design, and it can brews four to ten cups of coffee ready in three minutes. Paying out for take advantage from a product durability is a good deal. This home coffee maker carafe has a double wall, and are safe to be cleaned in a standard dishwasher. If you're someone who prefers to drink a lot of coffee throughout the day, the stainless thermal carafe has vacuum-insulated walls, so it can manage the warmness of the coffee for quite a while.
This model equipped with a 800-watt heater, to maintain an optimal brewing temperature for coffee, and its internal hot water tank that keeps water temperature 200 degrees Fahrenheit. This is the perfect temperature for proper extraction; it has improved design spray head to extract all the flavor from the coffee grounds, but doesn't over extract.
Thanks to the unique unique reservoir-style system, this could work well and brew as much as up to 10 cups of coffee within three minutes.
08. Bonavita BV1800SS 8-Cup Original Coffee Brewer, Stainless Steel

If you are looking for a machine that will brew up to eight cups of delicious coffee within a single pot, you'll love this simple model of coffee brewer by Bonavita.
The BV1800SS has an intelligent showerhead design for the complete saturation of the coffee grounds, that maximizes flavor extraction and a stainless steel thermal carafe that ensures a coffe hot and pure every time.
This simple design model produces consistent results and can be operated with a one-touch brewing. It is also equipped with a 1,400-watt heater, to maintain an optimal brewing temperature for coffee, and it keeps the water temperature between 195 and 205 degrees Fahrenheit.
The filter basket, carafe lid and Showerhead can be washed in a dishwasher and free from BPA.
Finally, with this simple brewer, you're just one-touch button, and consistently brew great coffee.
Health Benefits Of Coffee
Let's be honest, most of us are stumbling about and feeling dizzy when waking up in the morning, this however could change as soon as we smell the sweet aroma of coffee coming from our kitchen. Coffee has not just a great smell, is also a great eye opener and according to recent studies drinking up to 3 cups a day can have massive health benefits. Let's examine a few of those.
1) Coffee is great at fighting diseases generated from loss of cells in our brain like dementia and Parkinson. The antioxidant within it are also excellent at preventing liver diseases.
2) It is not surprise here but coffee is a great brain booster, when you need concentration and alertness for example right before a long journey or an important exam, try to drink a strong cup to help your brain staying sharp.
3) Coffee will help you shedding those pounds. Consuming caffeine in moderate quantities can help to speed up the metabolism which is responsible to activate the fat burning process. Sugar-free coffee is one of the drinks with the lowest calories that you can choose from.
4) People who drink coffee regularly have a lower risk of developing diabetes. Drinking only one cup a day slashes your risk by about 13%. Drinking 12 cups a day could decrease the risk by almost 70%. You should however drink coffee in moderation and you must talk to your doctor before drinking 12 cups a day.
5) People who drink coffee are 10% less likely to develop depression and anxiety than people who do not drink it. This fact however remains with coffee only as the same benefits are not found with the consumption of other caffeinated drinks like colas which are linked to an increased risk of depression and mental health issues.
6) Consuming coffee is good for your liver, as regular consumption help the liver to regulate its function. The risk of developing Primary sclerosing cholangitis (PSC), (a rare autoimmune disease that can lead to cirrhosis, liver failure, and even cancer.) is drastically reduced with regular coffee intake. Also those who drank at least one cup per day are 20% less likely to develop alcoholic cirrhosis than those who don't.
The health benefits of coffee are being discovered all of the time and regular consumption must be the drink that your body needs to function correctly. Remember however that as with all of the other good things in life, moderation is the key. If you suffer from any sort of anxiety, high blood pressure it is better to consult your doctor before drinking too much coffee.
How do you make coffee in a coffee maker?
Place the coffee filter in its container. Measure the amount of coffee, the more coffee you want to make, and the more coffee you have to pour into the filter. Measure the required amount of water to make coffee. To measure, you can use the lines of the coffee container or the water tank of the machine.Plug in the coffee maker and turn it on. Wait until the coffee has been made before serving.
The End: It seems surreal that there are so many different ways of preparing a single drink. Around the world, we like to drink coffee in many different ways, and therefore there are many types of coffee makers, each with different characteristics. However, for those who are entering the fascinating world of coffee technology the most important thing is to choose a coffeemaker that fits best in their tastes and consumption habits.