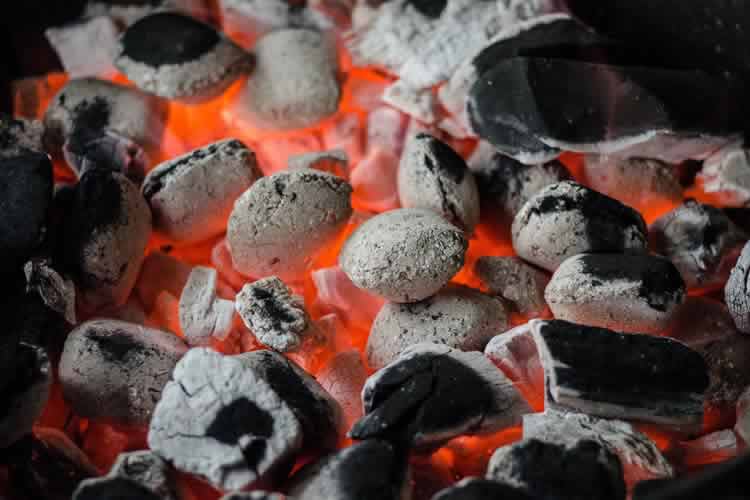 Bestofgoods.com supports our readers with thousands of hours of research and reporting to help you find the best products. You support us through our independently chosen links, which earn us a commission. Learn more about what we do.
Have you ever been in a position when you were unable to grill your chicken because of some reasons?
Either because your condo or apartment does not have a backyard, the weather is bad or because cooking outdoors is prohibited in the city you live in.
Cooking on a grill is easy, healthful and tasteful method to prepare food, and almost anything can be cooked on it.
If you have a desire to grill outside but you are limited for some reason, then the best thing to do is get an indoor grill to satisfy that desire.
What is an Indoor Electric Grill?
As the name implies, it is a grill that is designed to be used indoors. They make grilling a lot easier because they can be placed on a counter or tabletop for safe operation and they don't take much space in your home. You can cook just about anything on an indoor grill.
No matter how good or bad the weather is outside you can safely cook your favorite meals inside the comfort of your home. Indoor grills run on electricity, so you don't have to worry about dealing with messy charcoal or refilling a propane tank.
Why Use An Electric Grill?
While using an electric grill, you might not get the same flavor as you would with a charcoal grill, but you can get something that is quite tasty, and you can easily cleanup after use. Electric grills are also useful during bad weather conditions, you just stay indoors and grill your tasty chicken.
Best Electric Grills List For Indoor Use
Finding the right indoor grill can become overwhelming because there are various grills out there and they all vary in features. We've come up with a way to help you make the right decision, we've listed out the top ten best electric grills that will suit your purpose. Here they are:
1. Cuisinart GR-150 Griddler Deluxe
This indoor grill comes packed with six cooking options: contact grill, full griddle, half griddle, top melt, half grill and Panini press. Just choose the one you want and start cooking. It is coated with a stylish Brushed stainless steel for durability.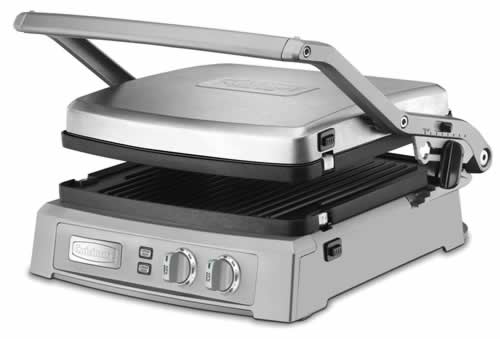 It also has a SearBlast feature that sears at 500°F for up to two minutes at a time, it helps lock in the flavor of steaks, fish or poultry. Its cooking surface is 240 square inches open, this is a pretty large surface when cooking meals for the entire family.
It has an adjustable top cover with 6 preset height positions that can be adjusted to melt and lock for storage.
2. George Foreman GRP1060B – Best Selling Electric Grill in 2020
The George Foreman GRP1060B was designed with durable coating, so you have no worries of it going bad anytime soon. Its 60 square inch cooking surface ensures it can carry up to 4, one-quarter burger patties. It can cook up to 4 servings at the same time.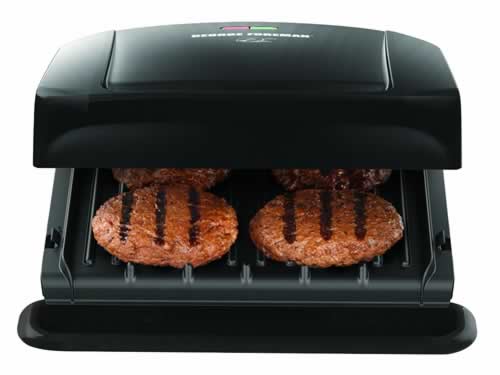 There have also been reviews by customers that it can cook meals in just 10 minutes. This grill can heat up 35% faster than previous models, so be happy when this model grills your chicken or vegetable until it is well cooked and leaves you with a delicious taste.
One added bonus it has, is that it has a hinge that allows the grill cover adjust to the thickness of the food. It also has a dishwasher which allows you safely remove the plates.
3. Oster CKSTGR3007-ECO DuraCeramic Reversible Grill & Griddle
The manufacturer of this grill offers a one-year limited warranty, this ensures you are covered if there is any defect on the grill, you can just as easily return it.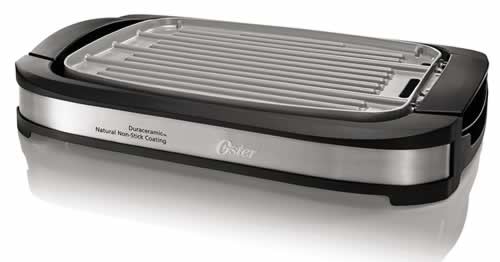 This grill was designed with a unique Dura Ceramic non-stick coating (PFOA and PTFE free) that last four times longer than the standard non-stick coatings, so you can griddle pancakes, eggs and more without worry. The cooking plate is fully detachable and is dishwasher safe, and can be cleaned with ease.
It also heats up 20 percent faster to get you cooking your meals quickly and easily. You can conveniently prepare meals for the whole family with its 10-inch x 18-inch cooking surface.
4. Hamilton Beach 25360 Indoor Flavor / Searing Grill
Hamilton Beach allows you to use it as both a grill and press to give you optimal cooking experience. The 120 inches cooking surface allows you to fit up to eight servings at the same time. There have been user reviews that this grill is easy to set up, easy to use and incredibly easy to clean.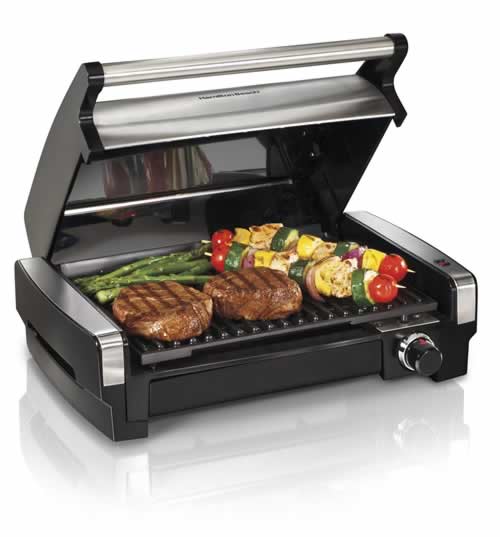 It has heat searing capability and adjustable temperature control that heats up your food in the right temperature leaving you with a yummy taste at the end. The grill plate, drip tray and removable hood are dishwasher safe.
5. T-FAL GC702 OptiGrill
This grill has 6 pre-set cooking programs for Fish, Sandwich, Red Meat, Burger, Sausage and Poultry. The indicator lights and audible beeps allows for easy monitoring of the cooking process.
Together with the six automatic programs, the grill provides two additional cooking options: Frozen mode for defrosting and fully cooking frozen food and Manual mode for cooking vegetables or personal recipes.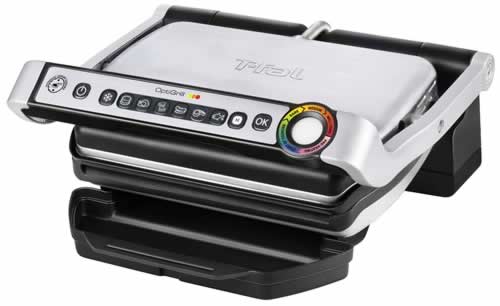 It also comes with a precision grilling technology with sensors which measures the thickness of food for automatic cooking based on the program selected.
The OptiGrill features a die-cast aluminum plates with a nonstick coating for effortlessly food release, user-friendly controls comfortably located on the handle and a powerful 1800-watt heating element.
6. CuisinArt GR-4N 5-IN-1 Griddler
Talking about how good warranties can get, the Cuisinart comes with a limited 3-year warranty. The counter-top Griddler offers a 5-in-1 functionality as a contact grill, Panini press, full grill, full griddle and half grill/half griddle.
It looks sleek and modern with its stylish brushed stainless steel housing and features a sturdy Panini-style handle, and a floating cover that adjust to thickness of food.
It also features adjustable dual temperature controls and the indicator lights makes cooking with it a lot easier. The cooking plates, drip tray and scraper all go safely into the dishwasher.
7. Zojirushi EB-CC15 Indoor Electric Grill
The Zojirushi is coated with a non-stick 12 by 9 inch cooking surface and has a 1300 watt heating element for effective grilling. You can disassemble it easily for cleaning and the drip tray is dishwasher safe.
It features a variable heat control which provides precise cooking temperatures, and the grill's handles made of a stylish dark-gray plastic base stays cool during the grilling process for your safety.
8. Excelvan Indoor Electric Classic Plate Barbecue Grill
The user manual of this grill takes you on a step-by-step process of how to use it, so you won't find yourself running into problems. The manufacturers offer a 1 year warranty and their customer service is superb.
It allows you adjust the temperature to the required temperature for different types of food. You can also disassemble it easily for easy cleaning. Excelvan also features a 15×10 inch cooking surface which allows for multiple cooking at the same time and is useful for a variety of meals.
9. Swissmar KF-77043 Classic 8-Person Raclette Party Grill
Enjoy time with your family and guest because this grill can be easily placed on the main table, have fun and grill at the same time. As warranties go, this grill comes with a 5-year limited warranty.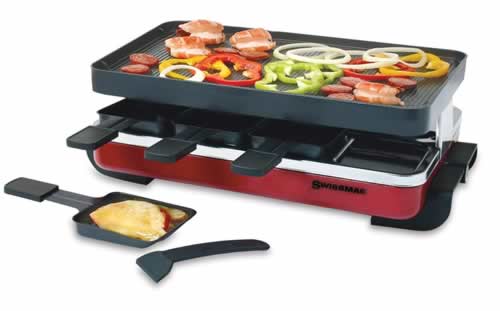 It features an 8-person traditional raclette with adjustable thermostat knob which allows the grill top to either keep appetizers warm on a low setting or turn up the thermostat and grill vegetables, chicken, sliced meats and fish.
10. George Foreman GGR50B Indoor/Outdoor Grill
Use it indoor or outdoor with no fuss. This grill can also be used either on a pedestal or on a tabletop. The 240 square inch cooking surface allows it to accommodate a large variety of food at the same time. The electric heat can be adjusted from a range of high to low.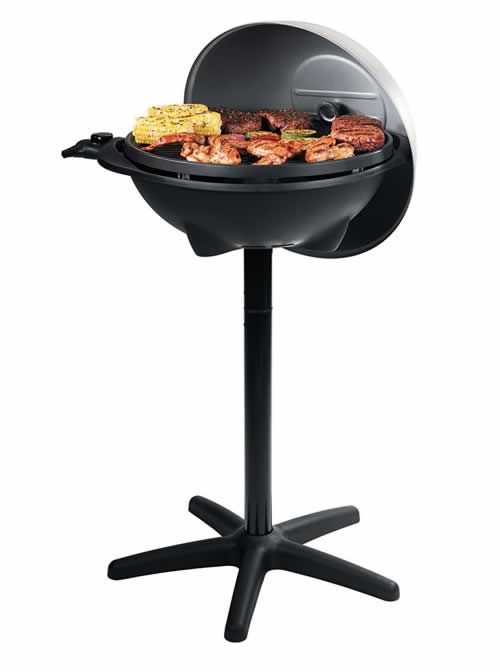 The non-stick grill surface not only allows you use a minimum of added fat, but it also makes cleaning a lot easier. It also has channels that collects accumulated fat or other liquids into an empty tray just below the surface.
How To Pick The Best Electric Grill
The Price: These grills come in various prices. If you plan on using it on a regular basis, then you should set out on buying the one with great features. Keep price in mind, but also be on the lookout for great features.
Best Features: Indoor grills come with a range of specs. What you should be looking out for is the one that will generate enough heat to cook your food, easy to clean up and has enough space to occupy various food at the same time.
Choose Brand: A brand that has good reviews and ratings should be the one to consider when purchasing an indoor grill. The more positive reviews the more the chances of a great product.
Return Policy: A defect caused by the manufacturer shouldn't be something you have to pay for. A warranty effectively covers you in such a scenario. It saves you the worry if something goes wrong.
Conclusion
Why give up grilling because of the weather, insufficient backyard space or laws regulating outdoor cooking. With an indoor grill you can bypass of all of these problems. After reading through our review of the top 10 best electric grills on the market, you are now ready to get yours. Enjoy grilling anytime. There are other types like the top-selling gas grills of 2020 that you may also like and consider. Check out all of the options and make your purchase soon to start grilling and enjoying.
Save
Save
Save
Save