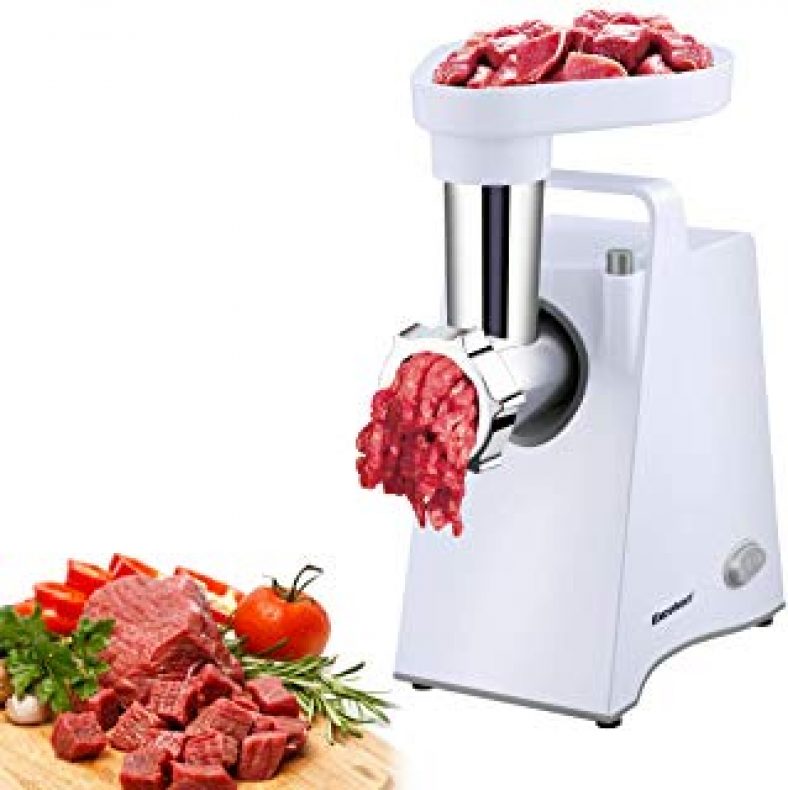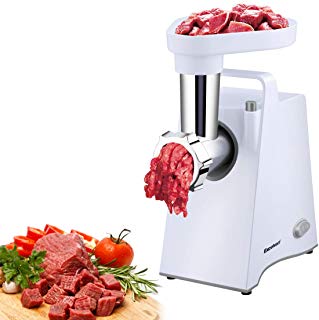 Bestofgoods.com supports our readers with thousands of hours of research and reporting to help you find the best products. You support us through our independently chosen links, which earn us a commission. Learn more about what we do.
Whether you are someone who is at top of his cooking game or somebody who is just getting familiar with cooking and essential kitchen tools, the meat grinder is definitely for you to consider knowing and owning. People often fail to realize how important it is to have a home meat grinder which is why it is absent from most of the homes.
Yes, I know it is convenient for you to go and simply get the job done but getting it done outside the house is first, not cheap and secondly, you never know what is going inside that meat. If it is the entirely meat-only or something has been added to it to make up for the missing meat? Grinding meat at home may be time-consuming but it is always a healthier and cheaper option. Also, you get to choose the thickness of the meat.
Knowing the benefits of grinding meat at home is not enough, knowing and understanding the right tool is.
After comparing and reviewing many meat grinders, our top pick is STX International (STX 4000-TB2-PD). Even though expensive as compared to the rest, it offers a wide range of features, extra accessories, effective functioning and durability for its price. It is not only suitable for the occasional but also for daily use. High Motor Power ensures fast and efficient grinding of the meat. Also, it offers you three different modes of power i.e slow, medium and fast so that you get to choose according to your requirement. Let's say you have to grind a large quantity of meat and you are tired, then it also offers you Foot Pedal Control for Grinding. High Power often results in the machine getting heated up. To prevent the machine from getting heat and damaged, it has an Air Cooling System. Extra Accessories which come along with the grinder include 3 Stainless Blades, 5 Grinding Plates, 1 Beaner Plate, Set of 3 Stuffing Tubes and a Kibbe Attachment.
Even though STX International (STX 4000-TB2-PD) is our pick but does it make the right choice for you? Not necessarily. The grinder which will make the right choice for you will be the one accommodating your needs and requirements. Maybe you do not need all the extra accessories and a fancy grinding machine. Maybe a simple manual grinder would be just the one for you. Thus, before you finalize a grinder for yourself, clearly know your needs and requirements and match those with the features of the grinder. Only then will you be able to finalize the right grinder for yourself.
PRODUCT NAME
Gideon Meat Grinder
GVODE
STX International (STX 4000-TB2-PD)
Gourmia (GMG525)
Victoria
IMAGE
MATERIAL
Heavy Duty Plastic and Stainless Steel
Aluminum
Stainless Steel
Stainless Steel
Cast Iron
MANUAL/ ELECTRIC
Manual
Electric
Electric
Manual
KEY FEATURES



Stainless Steel Blades and Screens


Meat Pusher


Lightweight


Powerful Suction Base





1 Grinding Blade and 3 Grinding Plates


2 Sausage stuffing tubes and 1 Kidney grinding plate


Multiple Use. Grinding Meat, Vegetables, Fruits, Cheese grating etc.





3 Blades


Food Pusher, Kibbeh Attachment, and Sausage Horn





White Iron Grinding Disks


High hopper grinder for large processing


Buyer's Guide: How To Choose The Right Grinder?
There are few essential features of a grinder which together make up the right meat grinder for you.
Manual Grinder Or An Electric Grinder: Which One To Choose?
First, if it is a Manual Meat Grinder or an Electric Meat Grinder. This entirely depends on the amount of meat you need to grind. If you need to grind a small amount of meat or home use then a manual meat grinder is a better option for you. It is small and lightweight and can easily fit on kitchen counters. Some manual meat grinders come with 3 in 1 option. Not only do they offer you to grind the meat, but vegetable and make pasta as well.
Then there are Electric Meat Grinders.  They are more suitable when you have to grind a large quantity of meat or when you need to grind tough meat. It is often taken up by the ones who have busy kitchens. Their power motors do not need to take a break to cool down while grinding a large quantity of meat. Many offer a cooling system to prevent the machine from getting heated up.
What Do You Have To Grind?
If you plan to use it for family meals which might include beef, pork and chicken then less powerful grinder will work fine for you but if you intend to grind tough meats such as wild boar, then you might have to opt for some heavy duty grinder with a bigger grinding head.
How Much Do You Plan To Spend?
There is always a budget set for every household item that you need to buy. Meat grinders come in a wide price range. Starting from under $100 to more than $350. The ones which are under $100 are usually small, not-so-durable, they lack special features and are mostly not electric. For a good quality, electric meat grinder with additional features, you will at least have to pay $150 and not less. If your purpose is slightly commercial and you are looking for a grinder from the industrial range then you might have to pay $350 or above.
Construction: Plastic, Aluminum Or Stainless Steel?
Secondly, If the grinder has a metal or plastic construction. Meat Grinders are made up of stainless steel, aluminum or plastic. Plastic Meat Grinders are lightweight and easy to move around the kitchen counter but they are not very durable and not at all suitable if you need to grind bones.
As compared to plastic meat grinders, the ones made of aluminum and stainless steel are more durable and efficient but they are heavy machines and hence, not portable.
Motor Power
Lastly, you must pay attention to the motor power of your meat grinder. Motor Power of a meat grinder rangers from 300 to 1500 watts normally but some heavy high-powered grinders have a maximum power of 3000 watts.
Following are the highly preferred meat grinders present in the market. A comparison of the features of the available meat grinders helps a buyer choose the better option according to their requirements.
How Heavy Is The Grinder?
Size is an important feature to be considered while buying a meat grinder. If you think you will be using your meat grinder often then you might have to make space for it in your kitchen where it can be placed permanently but if you won't be using the grinder very often, let's say once or twice a month then you might just have to put it away. You will be taking it out every time you decide to use it. Some grinders weigh more than 50 pounds. Hence, you might want to check the size and the weight of the grinder before buying it.
Extra Accessories
The extra accessories are always a plus. When buying a grinder, always pay attention to the extra accessories it is offering. The extra accessories offered always facilitate in making your job easy. They are not only helpful during your regular home meals but are especially of help when you are hosting a dinner or maybe a barbeque. Some of the key accessories that you should be looking forward to being offered:
Stainless Steel: Stainless steel is a great option for the ones who are looking for easy to clean grinder as it is dishwasher safe. Although easy to clean, it is more expensive than normal steel and is heavier.
Sausage Tubes: Not all grinders come with sausage tubes. They are offered with the stainless steel grinders. So, if you require to grind meat and make sausages, opt for a stainless steel grinder.
Meat Tray: This feature holds the meat in its position before it is pushed into the feeding tube. Nowadays, a meat tray is a must for all the grinders yet some of the manual grinders do not offer meat tray with them.
Grinder Plate: A grinder plate helps you decide and choose the thickness of the grind. Most of the grinders come with one or maximum two grinder plates. Few more expensive grinders offer you a wide range of grinding plates with them.
Meat Plunger: Meat Plunger is a tool which is used to push the meat down the feeding tube safely, without hurting yourself. Even though it comes with most of the grinders, but if your grinder does not offer it, you will definitely have to buy it separately.