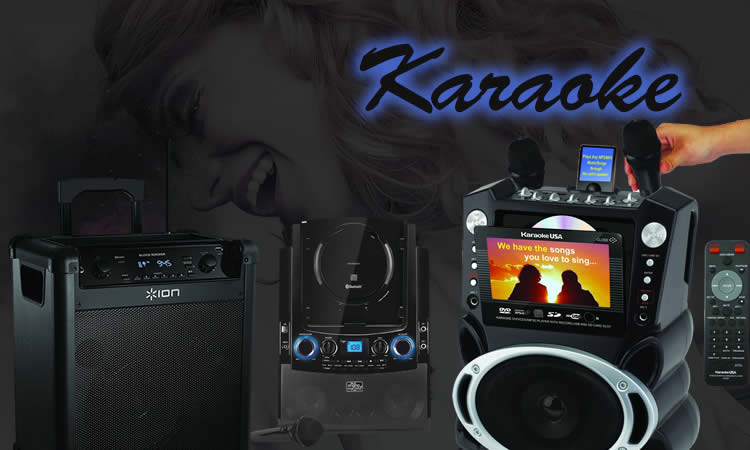 Bestofgoods.com supports our readers with thousands of hours of research and reporting to help you find the best products. You support us through our independently chosen links, which earn us a commission. Learn more about what we do.
Karaoke has been around for a long time. It is a way to bring people together to share fun moments as they all sing along their favorite songs.
Karaoke machines have even made it easier, and these machines have been around for quite some time.
Now you don't even have to go to a bar or places where people are many to enjoy one of the most fun activities in the world.
Karaoke machines have developed over time, with each new release comes new and awesome features.
Getting the right karaoke machine might prove to be a daunting task. There are so many brands out there; it is difficult to distinguish between the good from the bad. Much research will be needed to carry out such distinguish, and trust me when I say you might end up taking painkillers at the end of it all.
What Is A Karaoke Machine?
Karaoke is a form of entertainment where a person is able to sing along with a music track without vocals on a microphone for others to enjoy. It is often done in bar/restaurants and has a fun atmosphere for all attending.
The lyrics are able to be read from a monitor, with color lighting up each word as it is supposed to be sung out loud.
A Karaoke machine is used to put this music on screen, and the music is transmitted through speakers for all to hear. The microphone will be used to amplify the singer's voice.
How Can You Get The Best Sound From A Karaoke System?Sound is a very important part of any karaoke system. A Karaoke machine offering echo control will help you sound your best. Holding the microphone close to your mouth will also help the way sound is projected.
Benefits of a Good Karaoke Machine
Karaoke machines are an easy way to add extra fun to any party or get-together. The high-quality karaoke machines out there make it easy for almost anybody to use.
These machines offer a variety of features, such as the ability to record your karaoke session, save and upload songs to a USB drive or SD card and adjust the way your voice sounds. MP3 karaoke players even offer the ease of streaming music directly to your machine so you don't have to stop your fun to load CDs.
There are also an increasing number of portable karaoke machines available, making it easy to take the fun with you to a friend's house.
Best Karaoke Machines of 2020
That is the reason we've done all the research for you. Below is the top ten best karaoke machines review this 2020.
In a gathering among friends or family, your favorite music makes the occasion special. Tailgater will surely make such events memorable with great the flawless sound it releases from its 2-way speaker system and 50-watt dynamic power amplifier. The ION Audio Tailgater has an impressive battery life of up to 50 hours.
It has an built-in power bank that can be used to charge your devices from its USB port. This great machine also allows you stream your favorite songs from any Bluetooth device.
The ION audio Tailgater weighs 16 pounds; this allows it to be easily carried around. You can also enjoy songs from its built-in AM/FM, or better still create your own memories from the microphone that comes with it.
The Singing Machine ISM990BT has a Bluetooth system that allows it to stream music wirelessly from any type of bluetooth enabled device. It provides an Auxiliary (AUX) input for those that want to stream music from AUX enabled audio devices.
It has two microphone jacks that allow two microphones to be used simultaneously. Most parts of its body is covered with hard plastic, this makes it durable. iPhone, iPod and iPad users can easily download the Singing Machine App and get access to a library with 8000+ songs.
The RCA output gives it the ability to be connected to a Television for broader display. The Singing Machine ISM990BT comes with one microphone but has support for two.
If you want a karaoke machine that can easily stream music from any Bluetooth enabled device, then the Singing Machine ISM1030BT is perfect for you. It has an in-built CD player that can play CD+Gs and music CDs. It can also play MP3s and MP3+Gs through the USB port.
You can easily see the song's lyrics through the 7″ color LCD screen. This awesome machine allows you to record whatever you're playing, so you share with your friends later. Still on the issue of sharing with friends, it comes packed with two microphones so you will able to have fun with a friend.
You won't ever miss your favorite radio program when you make use of the built-in FM radio. Your voice sucks, the digital key, balance and echo control along with Auto Voice Control (AVC) help you sound your best.
With Pyle Wireless Active PA Speaker System you will be getting a high-end karaoke machine for a great price. Easily stream music from your bluetooth enabled smartphones. Its top control panel also ensures more efficiency, allowing easy access to volume levels, bass, treble, and echo.
The design of the Pyle PKRK215 is breathtaking and eye-catching. It comes fully packed with a high-powered active speaker, dual woofers and dual tweeters. For uninterrupted music and unlimited entertainment you can make use of the built-in FM radio tuner, USB input and SD card slot.
For the price of affordable, this machine offers more than its worth. It features a Bluetooth technology that enables it to easily stream music from a tablet or MP3 player. It also comes with two microphones, you and your friend can sing to your favorite songs as long as you want.
This system can easily connect to a guitar or keyboard for easy music accompaniment. The stereo speaker spits out marvelous sound quality when it plays.
The Akai KS213 has a cradle that can hold your Pad/tablet, and can give access to your device to connect to its auxiliary input. This karaoke machine is one of the cheapest solution you will find in the market. It has two microphone inputs, so you and your friend can do a duet.
It comes with AV outputs to connect to your TV. It also features a LED lighting system and Auto Voice Control, Balance Control and Echo Control. Built-in speakers are included and it runs on six "C" batteries (or AC adapter) in a situation where you want to make it portable. It also has a top loading CD+G player.
This machine has an Auto Voice Control AVC) singing coach that can help you overcome your shyness in front of others, by allowing you listen to someone else sing and lets you jump in at any point. It has a compact design that doesn't eat up much space.
You can easily connect this system to any TV so you can view the lyrics in a bigger screen and sing along. The 3.5 mm auxiliary input allows you to easily connect to your devices so you can stream music from them. You can adjust the sound with the sound control functionality.
It doesn't come with any microphone included, but this disadvantage is overcome by the 2 microphone inputs for singing duets with friends. This machine is inexpensive, but that doesn't mean that this machine is not top quality.
The Karaoke USA System comes equipped with a SD card slot, so if you want you can insert a memory card and play songs for as long as you want. The MP3 cradle not only holds an MP3 player but also makes charging the device immensely easy.
Connect any USB device to the USB slot this machine provides, play your favorite songs and sing along to your heart's content. It is user friendly, and can easily by both adults and kids. It comes with two microphones so you can have a duet with a friend.
Save money on buying any external sound system, the internal speakers are convenient and can do a perfect job. You can easily read lyrics off the gorgeous color screen.
The ION Audio Block Rocker has an impressive battery life of 13 hours on average use. Not only does it have an impressive battery life, but it also includes Bluetooth connectivity for your smart phones. The wheels that are attached to the bottom allows for easy handling and transportation.
This great machine also includes a USB power bank, so you can easily recharge your smart devices as well. As a customer commented on the sound quality of this machine, "it's neither too tinny nor too bassy."
Control your party's ambiance with the LED disco lights with dimmer settings. You can easily connect to other audio devices either through Bluetooth or auxiliary inputs. The Singing Machine has a 2 Digit LED display that lets you view lyrics while you sing along merrily.
It features a top loading CD player that plays music CDs and CD + Graphics. The RCA output jacks connect to your TV so you can view lyrics on a larger screen. The two microphone jacks allow you sing a duet with a friend without having to share a microphone.
How To Choose A High Quality Karaoke Machine?
The Price: Price is always a consideration. Professional machines are the high-end when purchasing, while children's machines will be cheapest. Home and portable machines are in the middle. Whichever machine you go for, make sure it's within your budget. There is a karaoke machine for everyone.
The Features: Look for a karaoke machine that has great features. We have highlighted many features in this review. There must be something that catch your fancy, go for it. But no matter which machine you go for, make sure it has good sound quality.
The Brand: Sometimes people prefer specific brands over others. If there is a brand that is well-known, it is thought to be trusted more than no-name brands. However, there are some promising machines made with names that are not as mainstream. Go for brands that have a good reputation and reviews.
Return Policies: Return policies ensure that you can return defective product or the ones that don't meet up to standard. Make sure to look for the manufacturers that offer good return policies.
Last Words
A karaoke machine is a great tool to have if you are music lover. It will allow you sing along your favorite songs. Some even come with a dual microphone feature that allows for a duet. Karaoke machines is a way to bring friends and family together so they can have fun.