The 7 Best Playpens for Crawling 2018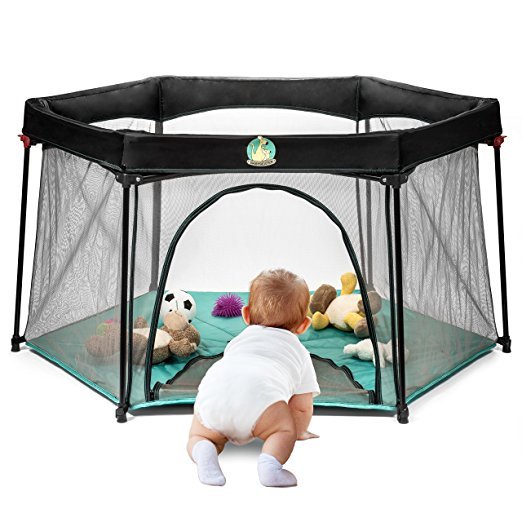 Babies tend to be very jolly and active creatures. They take great pleasure in crawling amuck. Their curiosity of the world makes them very explorative. That and the fearlessness of infancy promote toddlers to always look for new things to do and new objects to experiment with. Though this is perhaps the most adorable aspect of a toddler's personality, it also comes with risks attached. Under no circumstances can a parent afford to be distracted from their baby. If the house is not baby-proofed thoroughly, there is an endless supply of potentially dangerous everyday objects that the child needs to be protected from.

This is where playpens come in. Playpens are tiny enclosures that you can set up anywhere. Modern playpens take the concept a step further. These enclosures are made up of detachable pieces, which can be removed and reattached somewhere else. Playpens are very useful for busy mothers. They can do their chores or works while feeling assured that their baby is in a safe space. Playpens also reduce the urgency of child-proofing your house. Playpens can be used for babies as young as toddlers who have just learned to crawl. They do not lose their utility as long as the child does not get bored playing inside.
What are Playpens, Cribs and Play yards
Playpens and play yards are two commonly misplaced terms. It is important for a mother to tell the difference between them. Playpens are enclosures where a child can move about and play. The play area is basically surrounded by a short wall so that they child does not leave the area by mistake.
Cribs and play yards on the other hand are hard enclosures. They tend to be smaller in area. The play yard can also make a convenient spot for a baby's bed. Although they are certainly the more isolated and safer environments for your children, the kids will quickly outgrow these products. Where playpens outshine their competitors is longevity of use.
Why Purchase a Playpen?
This is the million-dollar question that all moms must look into. Researchers and experts have always had conflicting opinions about their utility and advantages. It is up to you to make that decision for your child. Here are a few reasons why the advantages of playpens are legitimate.
Playpens are flexible. You can alter their shape and layout depending on the layout of the target room.
Portability: playpens can very easily be disassembled and reassembled in a matter of minutes. This makes planning and adjustment no big of a deal. In fact, you can do it on the go quite easily.
Sturdiness: older designs of playpens began to lose their popularity because they were prone to breaking by the toddlers and children. However, the newer designs of playpens are a lot sturdier. They can handle more weight and they are constructed with children friendly materials.
Playpens have a great advantage that they can allow the toddlers to have all the fun in the world, even when you are busy.
Outdoor models of playpens can also be laid out in your lawn. You can take them to the park so that the toddler can enjoy the natural splendor and still stay safe from dangers and risks, e.g. the toddlers are away from the dirt and grass and all the ants and bugs that live there.
Transport-friendliness: Playpens are even easier to carry, lighter and more compact than travel cribs. This is a huge advantage in their favor.
Safety Tips: Things to Avoid when Using Playpens
Playpens have a lot of advantages but these advantages come with some negative aspects. Playpens really do give your baby a safe environment, but here are some hazards and dangers that you still need to be aware of.
Don't place bedding and pillows in the playpen, unless you are in the room and supervising the toddler.
Frequently check all parts of the playpen for damage or tears.
Educate caregivers and babysitters in detail about how to maintain a safe playpen environment.
If you put your baby to sleep in a play pen, it is preferable if he sleeps on his back.
Set the playpen away from windows and drapes.
If a panel is lowered, don't leave your baby in a mesh playpen. It is risky because the baby can get trapped between the mesh fabric and floor surface.
Do not leave the children in the playpen and then completely neglect them for long periods of time.
How to Utilize Playpens Creatively
Playpens are very common products with a very basic concept behind them. However, you can spice up these playpens by adding themes and using them to resolve a myriad of problems. The usefulness of playpens increases many times over if you have more than one baby. Here are a few clever ways that you can use playpens to make life easier and to create some adorable memories with your baby.
Napping: if your toddler is sharing his/her room with a sibling, conflict is inevitable. Often the toddlers have erratic sleep patterns and you do not want their nap timings to disturb their elder siblings. In such cases, a playpen can allow the baby to take naps in your room or other rooms of the house under the watchful eye of his doting parents.
Independent exploration should be promoted in toddlers. Lessons learnt in early youth stay with people for the rest of their lives. Motivate your toddlers to be more inquisitive and curious. Give them the space to experiment with things and learn about the basics of life.
Playpens can provide sleeping areas for babies on impromptu visits to friends and family. Since it is ill advised to let a toddler nap on an adult sized bed because of the off chance that he might roll off. Playpens serve as an instant solution to the problem. They create safe enclosures for the baby to nap in: a home away from home.
Not every house can be 100 % childproof. If your indoor or outdoor areas have some accident-prone spots such as drop offs at the edge of a lawn, stairs or fireplaces, then playpens become a serious necessity for you.
Things to Look for in Playpens
There are various markers of quality and a myriad of standards that a playpen should meet before it is declared safe for your kid. More importantly, playpens vary widely in a lot of ways, ranging from construction material, sturdiness, area, height and the type of mattress underneath.  If you want the playpen to be as safe as possible for your baby, look for these important features of playpens:
Certifications are usually helpful in determining whether a playpen has been approved by various authorities and expert associations. You can usually find related information in the product details of playpens online.
Side height: if the sides are too high (more than 25 inches) the child may start to feel claustrophobic or even exhausted in the space. On the contrary, if they are lower than 20 inches, then the playpen is not secure enough. Children of about 2 years can climb over panels of that height. It is preferable to look for playpens that fit in the sweet spot.
If the playpen has slats, they should not be wider than 2-3/8 inches. Keep in mind that the purpose of a playpen is not only to keep the infant away from outside environment, but also to keep the outside environment away from the child. If the slats are too wide, various animals and crawlers can enter the playpen.
If you are inclined towards buying a mesh fabric playpen, always make sure that holes are not too wide, otherwise there is always the risk of buttons and even small finger getting stuck
Firm mattress at the bottom of the playpen is important. It goes a long way into making the enclosure comfortable, cozy and alluring for the baby. With a quality mattress, the playpen also qualifies as a safe place for you toddler to take a nap in. Also, padding on the top of the rails is a big advantage because it saves the baby from hurting himself with bumps.
Make sure that the locks are obscure or that they are away from the child's reach.
The 7 best Playpens for Crawling
Now that we have discussed the utility of playpens, their advantages, disadvantages and precautions; let us look at some of the best playpens that you can acquire right now! Every product comes with its own advantages and disadvantages. You will make the final choice.
The Summer Infant product bridges the gap between playpens and playards. It combines the utility, ease of assemble and disassembly of a playard with the sturdiness and size of playpens. It has a hexagonal shape which allows it to be ingeniously packed in cramped rooms. It is lightweight and can be carried around neatly folded. The mesh fabric not only adds visibility and breathability, it is also a very sturdy choice of fabric. Its unibody design is great for outdoor events and picnics. You can set it up anywhere you want with minimal hassle. With all these feature, the Summer Infant is a great product for the responsible mothers.
Pros
Assemble and disassembly are very quick and easy.
It has a larger space than playards.
Mesh on the sides allows ample ventilation and visibility.
Fabric is easy to disassemble and clean.
Cons
The provided mattress for the bottom is thin. There is no padding and it is not comfortable enough.
The metal frame is not padded. It can cause injury if the toddler bumps into it.
back to menu ↑
Hauck products are reliable which is why they have been the trusted brand for mums for more than a generation. This product has great versatility. It can easily be setup as a playpen. You can also use the panels to create a stair gate or a barrier to keep the child safe from things like the fireplace. You can also use the provided mat as a playmat because it is easily washable. The company promotes this diverse utility by providing wall fixings so that you can also use it as a barrier. The panels are securely attached to each other. They are built of quality materials and you can very easily disassemble them with the clasp mechanism.
Pros
Lockable gate entry allows the toddler to enter and leave whenever he want to, but it can just as easily be locked.
Usability is great. It will make a sturdy barrier of up to 366cm. it will make a great fireguard and stair guard.
The steel frame is very sturdy.
Adjustability: you can remove and reattach panels as you please.
Cons
Difficult to set up out of the box. From the elastic tape to the spindle, the process of setting it up is time consuming and tricky.
Slippery mat. There is a risk that if the toddler is learning to stand or walk, he might easily slip causing injury.
back to menu ↑
If you are looking for a colorful and versatile product that is economical and still maintains good build quality and standards, the North States product is a worthy product to buy. It comes with eight equal and colorful panels. It offers the same brand of versatility as many of the other products in this list. The yard can enclose up to 34.45 square feet. That is enough space for your toddler and his entire collection of toys to comfortable fit in. the panels attach to each other with hinges, which makes them easy adjust. You can remove panels to create the appropriate size of playpen for your living space.
Pros
Large coverage area of 34.45 square feet.
At 26 inches, the height is appropriate enough that the toddler is safe inside and you can easy bend down to pick him/her up.
Good quality pads prevent sipping. They also keep the Superyard Colorrplay from putting scratch lines on your floor.
Easy assembly and disassembly
Cons
Flimsy construction. It is not strong enough for kids over two. It can easily be bent.
Despite the grip pads, it slides around in the room because of light weight.
back to menu ↑
This is the 8-paneled square version produced by MCC. There are a lot of things that this product does right. Though it is made of plastic, the walls are double-paneled so that it still maintains firmness despite the lightweight. It can easily be disassembled and reassembled in another room, however, one way this product is lacking is that you cannot modify its size, shape or number of panels. With the being said, this colorful product is certainly going to make a great addition to your house, and your baby will absolutely love it.
Pros
Dual locking safety gate allows you to keep it open for the toddler to enter and leave at will when you are around and stay inside when there is no one to supervise.
At 68 square feet, it is definitely a spacious product for nonstop fun.
It can easily be setup outdoors in the yard. You can easily shift it to the lawn or carry it with you on a picnic.
Cons
Premium price for a flimsy plastic construction.
It has a plastic smell out of the box.
back to menu ↑
This Summer Infant product is the second one on this list. Unlike the previous Summer Infant Pop n' Play, this product is more of a traditional take on playpens. It has a plastic construction but the pieces have a mesh pattern for maximal ventilation and visibility. Though the 18.5 square feet play area is not very big, there is the added advantage that it will occupy less space, and if you live in cramped spaces, then is property will certainly be a lifesaver for you. To make it more space savvy, this playpen is constructed with off-white neutral colors. This playpen will very easily blend with your home décor.
Pros
Can be constructed into different shapes from a hexagon to a square and also a rectangle orientation.
30-inch-high walls are extra tall and extra protective.
Lightweight construction. The panels can easily be stacked up and crammed into small spaces for storage.
Cons
Your child may pick up the habit of trying to climb up the meshwork. Babies over one year can climb out of it!
It is not sturdy enough for outdoors use.
back to menu ↑
Evenflo is known for making some reliable baby gate. This playpen is a great choice because of its minimalistic design and small presence. This article is packed with unique features, including the reversible leg. The reversible legs are equipped with outdoor stakes. This is an amazing feature particularly if you are going to be using the playpen in the outdoors. The hinges are strong. They can rotato smoothly and freely. All these features make this hexagonal playpen a great purchase.
Pros
Very reasonable Price
Strong hinges make sure that it will not move about or break.
5 square feet of area is enough for one toddler and all his favorite toys.
Foldable with handles. It is very easy to carry about.
Cons
Lightweight and flimsy. A child of age more than 1 year can knock it down.
Needs extra support for added stability. It is very easy to push around on its own.
back to menu ↑
This playpen is a great choice if you have a large free space, and if you want your baby to indulge in every kind of activity within the playpen. You can purchase both multicolored and blue-and-white versions of this product. It is made of plastic, but because of the large size, that should not be a problem. You can spread a matt or foam on the floor of the playpen and your baby can have fun and sleep whenever he feels like it. Another important selling point is that Baby Care boasts a very responsible choice of material for the construction: their choice of plastic is hypoallergenic and it is completely baby-safe.
Pros
Phthalate free, lead free and completely non-toxic composition of both the plastic and the paint makes this a safe product.
It has been extensively tested for child safety.
Tool-free and easy assembly. Can be assembled and taken down in minutes.
It is waterproof, so feel free to rinse the panels on case of spillage.
Cons
Corner caps are not completely pinched out. It might scratch a baby, so it is important to make sure that you cut off the pieces before installing it.
Conclusion
The playpens evaluated in this list are all quality products that have gone through extensive testing to make sure that they are sturdy and safe for your baby to play in. You can't go wrong with any one of these playpens, but make sure that your decision includes other personal factors like the amount of space in your house and whether or not you value portability and outdoors use. Your needs come first.