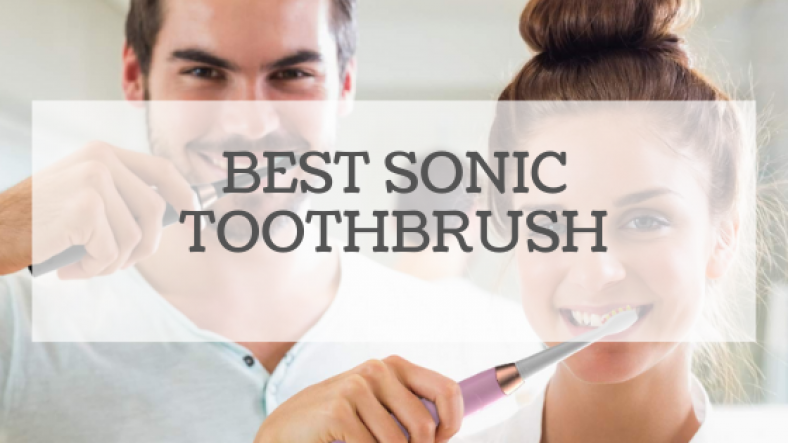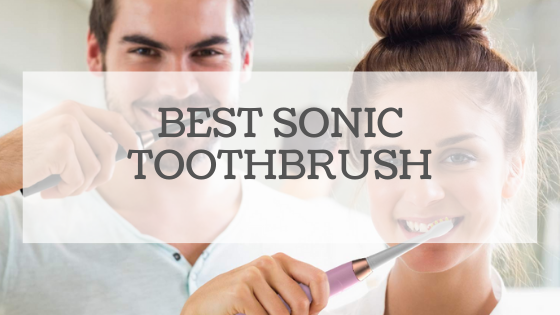 Electric toothbrushes have experienced a real boom in recent years. They can now be found in many US households. There is a reason for this because electric toothbrushes brush more thoroughly and at the same time more gently than manual toothbrushes. They are therefore regularly recommended by dentists. The sonic toothbrush is also an electric toothbrush that differs from the classic electric toothbrush in its design and function. What exactly this means and what characteristics the sonic toothbrush has, we explain to you in our sonic toothbrush comparison 2020. Here you get an overview of the best sonic toothbrushes, the most important categories, and the most popular brands. Additionally, an oral irrigator can be used.
The most important in brief
Sonic toothbrushes clean very thoroughly and extremely gently. This makes them particularly suitable for people with gum problems or implants.
Compared to "rotating oscillating" electric toothbrushes, they look very similar to a manual toothbrush, but function completely differently due to the sonic technology and clean more gently.
Different extras are depending on the model. Especially useful is a quadrant timer, which indicates when you have to change to the next quadrant and several brushes because these can be quite expensive if they have to be bought later.
1. What is a sonic toothbrush?
The sonic toothbrush has a similar shape to the manual toothbrush.
Sonic toothbrushes are electric toothbrushes. These are divided into sonic toothbrushes and "oscillating rotating" brushes. The latter have round heads, which­ swing back and forth in a semi-circle­ and­ partly additionally pulsate and thus mechanically clean. Toothbrushes, on the other hand, work with a sonic generator, which is usually operated magnetically and generates vibrations that are transmitted to the brush head. Contrary to widespread opinion, it is not the sonic itself that causes the teeth to be cleaned, but the movement (vibration) of the brush head. Since this vibration takes place at a very high frequency, a buzzing sonic characteristic of this toothbrush is produced.
How to use a sonic toothbrush
This video gives you a step-by-step instruction on how to bursh your teeth using a sonic toothbrush
The sonic waves generated by the toothbrush clean the spaces that are otherwise difficult to reach.
The frequency of the oscillations is usually between 30,000 and 40,000 oscillations per minute. In addition to the frequency of the oscillations, the amplitude, i.e. the oscillation deflection, also plays a role. This is between three and four millimeters. Since hardly any pressure is exerted, sonic toothbrushes are very gentle on the gums and the tooth substance. At the same time, they clean the teeth very thoroughly of plaque. What are the exact advantages and disadvantages of a sonic toothbrush compared to a conventional "oscillating rotating" brush according to our comparison of sonic toothbrushes?
very thorough cleaning
gentle cleaning
very simple operation
quite large brush head – can not be guided to difficult places
some find the vibration or the noises it produces unpleasant.
Have you made up your mind and would like to buy a sonic toothbrush? These products usually start at $40 and can be up to $250 expensive. With $40 you already get a cheap sonic toothbrush. In our sonic toothbrush comparison 2020, we show you products from different price segments and give you an overview of the most important criteria and best sonic toothbrushes. Whether the Grundig TB 7930, the Oral B Micropulse or the Philips Sonicare Flexcare, there are many good sonic toothbrushes on the market. The dominant manufacturers are Philips, Panasonic and Oral B (part of Braun). Also, our sonic toothbrush comparison winner is from one of these market leaders.
2. What types of sonic toothbrushes are there?
What's plaque?
Plaque is a sticky, living plaque of bacteria that forms on the surface of the teeth and is the cause of tooth decay and gum disease. It is caused by the bacteria contained in human saliva, which attach themselves to the tooth surface and multiply there.
Within the sonic toothbrush category, there are many different models (such as the Philips Sonicare or the Oral B electric toothbrush), but no distinction can be made between different types. Nevertheless, there is a further development of the sonic toothbrush, the so-called ultrasonic toothbrush.
The ultrasonic toothbrush
The toothbrush with ultrasonic is not yet very common in the US market. If a toothbrush has ultrasonic, it works according to a different principle than a sonic toothbrush. This starts with the fact that the ultrasonic toothbrush with 1.6 million oscillations per minute has a much higher frequency than the toothbrush with sonic. The central functional principle is that the vibrations are transmitted to a special toothpaste. This triggers the bursting of bubbles, which also results in branching. This special toothpaste is therefore always required for the use of an ultrasonic toothbrush.
3. purchase criteria for the sonic toothbrush
| criterion | property |
| --- | --- |
| Vibrations per minute | Here information is given about the number of vibrations of the brush per minute. The average is between 30,000 and 40,000 vibrations. |
| operating mode | The electric toothbrush or explicitly such an electric toothbrush with sonic can be operated by battery or rechargeable battery. The former, however, has prevailed over the years due to lower costs. The battery of the sonic toothbrush is charged via a charging station and lasts for different lengths depending on the model and manufacturer. For example, the Diamondclean from Philips Sonicare has a battery life of 21 days. The Oral-B Pulsonic Slim, on the other hand, has a battery life of only 7 days. Both data refer to a useful measure of twice 2 minutes of cleaning daily. |
| Number of cleaning programs | While the electric brush usually has several programs for cleaning, this is not always the case with the sonic toothbrush. Many sonic toothbrushes offer only one cleaning mode. There is a tendency for more cleaning modes for cleaning as the price rises, but there are exceptions, as one of our best sonic toothbrushes proves. |
| timer | A timer is integrated into almost all toothbrushes with sonic, whether it's a Philips Sonicare or a Braun toothbrush. A special technical extra is the so-called quadrant timer, which indicates at intervals of 30 seconds when the next quadrant of the jaw should be reached when cleaning. |
| Number of brushes | Usually, only one brush is included in the delivery. In some cases, however, there are either duplicates of the brush head or different types of brushes such as sensitive or very soft brushes in addition to the normal brush heads for everyday use. Usually, the toothbrush must be from the same manufacturer as the toothbrush itself. For example, there are Oral B toothbrushes that only fit on the Oral B toothbrush. As a general rule, the brush head should be replaced every three months at the latest. |
The movement is similar to the use of a manual toothbrush. Move the brush along with the teeth with light circular movements and lightly press the brush head during the cleaning process. The movements do not have to be carried out very precisely. We recommend a 2 minute brushing time during which you should clean the jaw quadrants and the inner and outer surfaces as well as the occlusal surfaces of your teeth evenly. Of course, there is also the sonic toothbrush for children (which you cannot find in our comparison of sonic toothbrushes). Here, however, as with the manual toothbrush, the cleaning of each tooth is necessary. You can find a detailed instruction video here again:4. How to clean properly with a sonic toothbrush?
4. popular manufacturers
Sonic toothbrushes like the Philips Sonicare Diamondclean are often recommended by dentists.
Gentle and effective care made easy with sonic technology that removes up to 7x more plaque vs. a manual toothbrush
Protect your teeth and gums with a pressure sensor that gently pulses to alert you when you're brushing too hard.Voltage:110-220 V
Always know when to replace your brush head for an effective clean with the brush head replacement reminder
2 minute timer with QuadPacer helps ensure Dental Professional recommended brushing time and a consistent clean throughout your mouth
Long lasting 14 days battery life. Battery indicator light lets you know when to recharge
As you can see in our sonic toothbrush comparison, there is a wide range of models available for these products, but some major manufacturers are market leaders. These include Philips, Braun, Oral B, and Panasonic, which also appear in almost every sonic toothbrush test. However, the US market is dominated by the Dr. Best brand, which generates 27 percent of US toothbrush sales and more than 40 percent of industry sales. However, this is especially true for manual toothbrushes. In the field of electric toothbrushes, the Oral B electric toothbrush is always recommended and boasts itself to be regularly recommended by dentists. Also, the Philips Flexcare sonic toothbrush like the Philips Sonicare Flexcare are reliable models. Also a Professional model from Panasonic. But there are also other solid manufacturers like Grundig, Newgen Medicals or AEG. In our sonic toothbrush comparison, we show you toothbrushes from many different manufacturers, so that you get a good overview.
5. questions and answers about the sonic toothbrush topic
5.1 What is an electric sonic toothbrush?
The electric sonic toothbrush cleans very thoroughly and gently at the same time.
An electric toothbrush cleans the individual tooth particularly thoroughly and is extremely gentle on the gums. In combination with mouthwash, it ensures very good oral hygiene. This result is achieved by a sonic generator that triggers a very high frequency of vibrations. Our Sieger sonic toothbrush also cleans teeth and gums particularly thoroughly. Another good product is the Philips Sonicare flexcare toothbrush.
5.2 How to clean with a sonic toothbrush?
With such a toothbrush you brush the individual toothless exactly than with a manual toothbrush because the sonic toothbrush does most of the work. All you have to do is drive along with the teeth with slightly circular movements and press the brush head lightly against each tooth. 2 minutes of cleaning time (30 seconds per jaw quadrant) are recommended.
5.3 What is better: sonic toothbrush or rotating toothbrush?
A good product, for example, is the Oral-B Pulsonic Slim.
According to Stiftung Warentest,­ neither of the two systems has clear advantages in­ terms of cleaning performance. ­Rather, the individual cleaning behavior plays a role. While you have to clean each tooth individually with a rotating toothbrush with a round head, the sonic toothbrush cleans more extensively. Manufacturers such as Panasonic or Braun offer models of both types of an electric toothbrush. A good product of the rotating toothbrush is, for example, the Oral B toothbrush Professional Care 1000.
5.4 How often do I have to change the brush head of the sonic toothbrush?
The brush head of the sonic toothbrush (whether Flexicare or Professional model) should be changed every three months at the latest, as should the oral shower or tongue cleaner, to guarantee the best possible oral hygiene. The costs for replacement brush heads range from two to $6, depending on the model.
5.5 What is the difference between a sonic toothbrush and an ultrasonic toothbrush?
A sonic toothbrush such as the Philips sonic toothbrush and an ultrasonic toothbrush differ in that the sonic toothbrush generates vibrations of up to 40,000 vibrations per minute through a sonic generator. The ultrasonic toothbrush, on the other hand, achieves a frequency of up to 1.6 million oscillations per minute. The special toothpaste that must be used then brushes the teeth by bursting the vesicles. Apart from their functionality, the main difference between the two categories is their price. While cheap sonic toothbrushes are already available from $40, ultrasonic toothbrushes usually cost at least $100, and the trend is rising. If you prefer conventional toothbrushes, perhaps our comparison of electric toothbrushes is something for you.